Conveniently located between Morehead City and Beaufort, NC
We are the closest marina to the Beaufort Inlet, providing easy access to the Intracoastal Waterway, Shackleford Banks, Cape Lookout and the Beaufort and Morehead City Waterfronts.
Bill Newbern
Owner
Bill has worked at Radio Island Marina since 1995. As the marina's owner, Bill's mission is for each customer to have an easy and memorable experience every time they utilize Radio Island Marina.
Neal Rowland
Sales
Neal has spent the majority of his life on the NC coast and joined the Radio Island sales team in 2013. Whether you're a new or experienced boater, Neal will help you find your perfect boat.
Duke Capel
Sales
Duke joined the Radio Island sales team in 2022 after spending 4 years in the service department, where he became proficient in Grady-White systems and our local subcontractor network. He has a long family history of owning Grady-White boats and can help you find the perfect match for your specific boating needs.
Jim Sproul
Service Coordinator
Montez Wade
Sales Coordinator
Montez grew up here, on the coast of Carteret County, where she acquired a vast knowledge of marine manufacturing and sales. With a keen attention to detail and the desire to create a family atmosphere for every customer, this will leave the client the ability to enjoy every moment of the boating on and off the water.
Mason Ellis
Lead Yamaha Technician
Edgar Lewis
Coastline Marine Electronics
Chris Gaskill
Forklift Operator
Susan Hobbs
Shipstore clerk
Josh Falls
Forklift Operator
Providing Superior Service to all of our Customers
We opened our doors in 1983 and have been home to hundreds of boating families and fishermen over the years. In 2007 a major renovation and overhaul of the marina was completed. The renovation included new bulkheads around the basin, new docks, all new storage racks for the dry stack boats and new exterior siding on the dry stack building. In 2018, we completed a renovation on our new and improved Ship Store.
Radio Island Marina is a full service marina providing a fuel station, maintenance and repair services, dry stacks and boat storage, ship's store and much more! Our team is here to make all of your family's boating experiences convenient and memorable. Give us a call to learn more about our full service marina in Morehead City, where our staff will always treat you like family.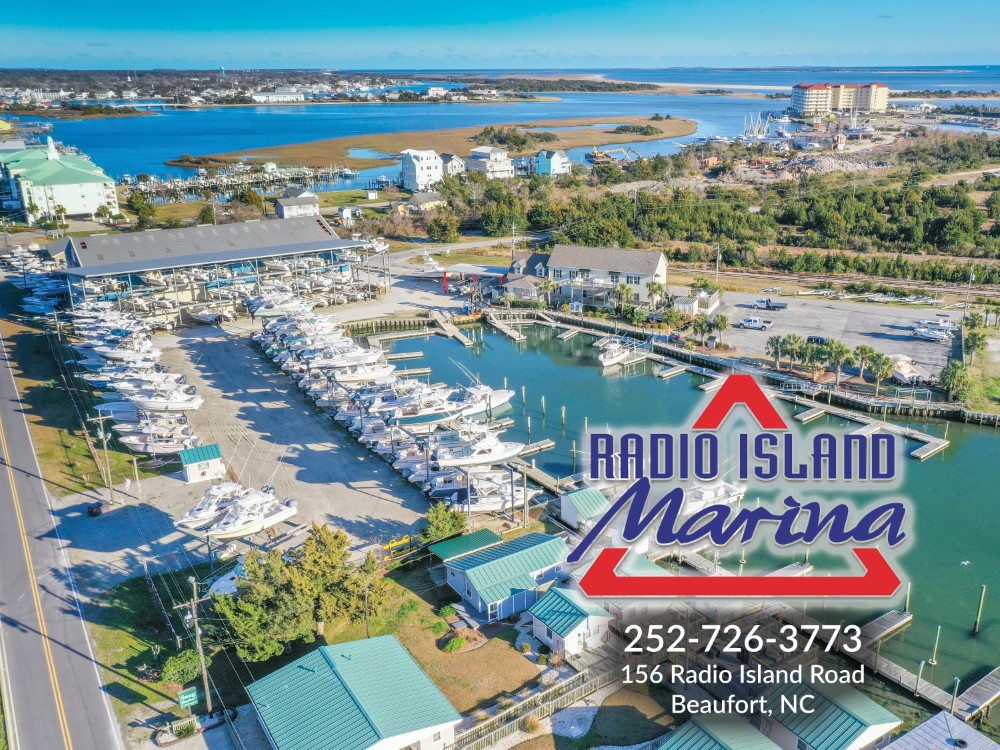 This is a very professional and thorough organization. They take a great deal of pride in their craft and the way the facility looks. The staff could not be more professional and helpful. From the owners of the Marina to the guys driving the forklifts and the staff behind the counter and in between. These folks communicate with you so that you know what is going on and what needs to be done. I would not leave my boat anywhere else or let anyone other than Jim and his Staff work on/service my boat. Best in class!!!
Clean facilities. Nice floating docks, conveniently located access to the inlet and the ICW. Locally owned, with a professional and courteous staff. Full service Yamaha and Garmin techs available as well. Very satisfied customer.
I love having my boat at Radio Island Marina. Everyone is friendly and helpful. It's a convenient location to the places where we enjoy boating. I find docking easier because the prevailing wind is blocked by land structures and there's not a flowing current to overcome.
I've had my boat here for 3 years and can't imagine having it anywhere else. The staff is great from sales to service to putting it in and pulling it out of the water. We've never been let down or disappointed. Bill runs a great team all year long and the staff is very tenured. They know everyone's name, it's like family! If they have a spot open... get it quick because its the best staff and location in town.
Awesome staff and facility. Bill Newbern is a great guy. Radio Island Marina has made my boating lifestyle amazing. Best marina on the Crystal Coast!!!